How To Create A Personally Branded Youtube Video On Your Community
Last blog entry I promised you all a tutorial on how to create a slideshow movie like I did. Here we go. Don't worry, If I can do it, you can do it. Here's another sample:
Actually, I created an entire youtube channel called The Peekskill Channel. Click here: https://www.youtube.com/user/thepeekskillchannel.
Besides the one on the Peekskill Riverfront above, it also has a video about Chapel Hill, the 429 unit Town Home community I live in; one about the foodie scene in Peekskill; Classic Homes of Peekskill, and more. I plan to do more for other towns near me.
So here's how:
Rule #1) Always save your work!
Photos
Wait for nice weather.

Take lots of good photos of your community, or the aspect of your community you'd like to feature.

Get Google's FREE Picasa utility & upload your photos to it.

Review & discard any that are blurred, grainy or otherwise n/g.

Use the "straighten" tool first, to make the photo as attractive as possible.

Next, crop the shot to lose things like wires, garbage cans etc.

NOW either a) lighten; b) try "I feel lucky", "auto-color" or similar, or c) go to the next tab, "Finely tuned lighting and color fixes" & doodle around there until you get the best possible result.



Now it's time to write your script. What kind of story do you want to accompany the photos? Keep it short; you'll only want each photo in front of the viewer for 3-5 seconds.
Time to make the movie!
OK; we're still in Picasa. Underneath the folder you created for your photos you'll see several tabs. The 3rd one from the left will say "Create Movie Presentation" when you hover your mouse over it. Click that thing.
The screen will probably show the name of your folder and its date of creation as your movie title. Chances are, you won't want these as your title. Here's how to change it.

Click on the tab that says "Slide"; delete the text in the work box on the left & enter the text you want. Some extra tips:

You'll see that you can choose from many different fonts, font sizes, text and background colors and the options "Bold/ Italic and Automatic Outline". Play around with them & find what works best for you.

Under"Template" you have a number of choices for how and where your text will display. I usually choose "centered" for mt text slides.

If you hit "enter" at any point in a text slide you'll shift to the next line and everything after that will be in smaller, greyed-out text. To avoid that and keep everything bright and large you have to enter all your text without hitting "enter"; then use your spacer bar to shift the desired text to the next line(s) and then re-center/reposition everything.

Now that you've created your title slide, move on to your first photo slide. If you want to do captions like I did, go to "template" & choose they way you'll want your captions to appear. I suggest that you have the captions on all photos use the same template, color, etc. You may have to change font size a bit from photo to photo to fit the text in a pleasing manner. I use "caption classic" or "gradient black". See what you like. Captions should be short; no more than 2 lines. Adjust font size so it doesn't cut into your photos too much.

Sometimes you may want to put a new text slide in between some photo slides, to break things up & provide more info. The tab for that is right above the red "X". Remember to change your template back to "centered" and change your font size as needed. Of course, change everything back again when you go back to photos.

At the end, you may want to brand your movie with your photo and/or one or more text slides.

Now go back to the movie tab. Fiddle around with the "transition style", "slide duration" and "overlap" controls. Ideally, you'll want each slide to be visible 3-5 seconds.

Take a look at the total duration of your slideshow, which you'll find centered just above the triangular green "play" button.

All this time you've been thinking "What kind of music would I like to add to this?" or maybe you want to narrate rather that having captions. If so, good luck... I haven't tried that lately.

When you click on Audio Track "Load", you'll probably open a box to your computer's music folder. Choose something or download something appropriate and then choose it. An options pulldown has appeared. I have the photos fit into audio.
ALL DONE! CREATE MOVIE! Save to your hard drive, upload to youtube. CONGRATULATIONS!
Everything above took me a long time to work out. Here's hoping this all makes your project a lot easier. Ciao.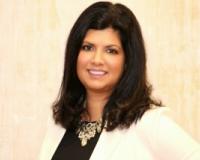 Author:
Cristina Gameiro
Phone:
914-804-1692
Dated:
March 20th 2015
Views:
1,631
About Cristina: Cristina Gameiro, a full-service New York State salesperson (ABR) specializing in Westchester and Pu...